Chios Mastic Museum,
isle of Chios, Greece, 27/1/2018
Chios Mastiha Research & Development Center was presented on January 27th 2018, at an event which took place in the isle of Chios, at Chios Mastic Museum.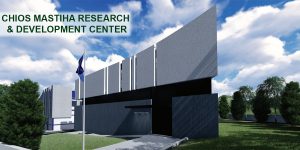 Being constructed with pharmaceutical industry specifications, the R&D Center is founded by worthy partners:
– IASIS PHARMA and its affiliated company Pharma Q,
– Chios Mastiha Growers Association and its affiliated company Mediterra,
– Pharmagnose, the spin-off company of the Faculty of Pharmacy of the University of Athens.
During the event, IASIS PHARMA president and managing director, Dr. Konstantinos Pachis, stated:
"Chios Mastiha Applied Research & Development Center aims to produce results in the literal sense of the term: a Creation. A creation with references in the past, but also with innovatory science.
Since December 25, 2017, when the Center has been established, all participants feel like we stem from Chios island.
We have taken over the rich heritage of Chios mastic. We respect and honor it, and we hope our work will honor the purposes for which we created the Research & Development Center."