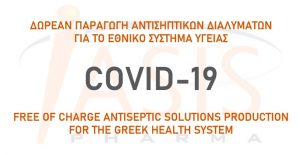 During the past months, Greece, just like the rest of the world, faced an unprecedented health crisis· COVID-19 corona virus pandemic, in addition to the irreplaceable loss of human life, has caused extremely adverse conditions in all areas of the economy and entrepreneurship.
Nevertheless, the Greek pharmaceutical industry not only endured that situation, but took actions to address the crisis, supporting the Greek health system and health professionals, actions that continue to this day. Under the auspices of the Panhellenic Association of the Pharmaceutical Industry (PEF), many Greek pharmaceutical industries supported the National Health System, the State and patients. IASIS PHARMA could not be absent from this effort, being one of its main pillars.
More specifically, IASIS PHARMA proceeded with the free production of antiseptic solutions for the Greek Health System. On May 12, 2020, IASIS PHARMA handed over the second batch to the Ministry of Health, having so far produced 21 tons of antiseptic solutions. The production took place in IASIS PHARMA new production facilities in Koropi, Attica, more precisely in the new, state-of-the-art fluids' production unit.
Medical data around the world seem to be encouraging and show that we are gradually moving towards the end of this dark tunnel that all of humanity has been forced to go through, during the past months. Keeping in mind not the word "rest", but "vigilance", IASIS PHARMA is present against this, and will be present against any other future health crisis.