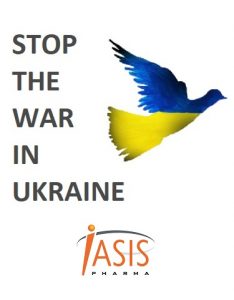 The Russian invasion of Ukraine has caused a huge humanitarian crisis, unprecedented in the modern era of the European continent. Responding to the needs of the Ukrainian people, individuals, companies and governments from at least 29 European countries took action by sending humanitarian aid to Ukraine, mainly through the EU Civil Protection Mechanism.
IASIS PHARMA could not stay outside this. In cooperation with the Panhellenic Association of the Pharmaceutical Industry (PEF), the company collected a significant amount of aid in the form of pharmaceutical products for Ukraine. The aid sent included broad-spectrum antibiotics, community antibiotics, anti-inflammatory as well as hemostatic products.
With a strong belief in the principles of respect and care for human life, on which the company was founded and grows, IASIS PHARMA will continue to support the Ukrainian people and hope for an immediate peaceful solution.