FIRA DE BARCELONA, GRAN VIA, BARCELONA, 4-6/10/2016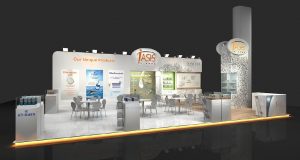 ΙΑSIS PHARMA was present for the second consecutive year, this time as a Gold zone exhibitor, at CPhI 2016, the top Fair of the Pharma Industry which took place in Barcelona, at October 4th-6th. During the three-day event, more than 36.000 visitors from over 150 countries had the opportunity to visit 2.500 exhibitor stands.
IASIS PHARMA management team had the opportunity to further establish the presence of the company and its specialised product portfolio into the international network of pharma industry professionals . The vast number of visitors showed strong interest about the following company products:
Nitrofurantoin tablets, caps & oral solution for paediatric use, one of the most effective antimicrobials targeting UTIs. IASIS PHARMA is, to the best of our knowledge, one of the very few companies in the World, if not the only, manufacturing the full range of Nitrofurnatoin formulation supported with updated Registration Dossiers including a complete set of BE studies.
Effervescent line portfolio of products, pharma grade, produced and packaged in the fully automated manufacturing line of IASIS PHARMA plant, supplying the Greek market but also other EU markets.
mastihatherapy® caps which are 350mg capsules of Natural Chios Mastic, indicated for mild dyspeptic disorders. Chios Mastic was approved on August 2015 by the European Medicines Agency (EMA) as a Traditional Herbal Medicine for the treatment of mild dyspeptic disorders (oral use) and also for the treatment of skin inflammations & healing of skin lesions (cutaneous use).
IASIS PHARMA executives carried out a series of meetings, in order to develop new and existing relationships and materialize business projects with key players of the industry, but also new contacts, setting new cooperations with companies from all over the world. IASIS PHARMA renewed its appointment with the international pharmaceutical industry for next year, in Frankfurt where CPhI Worldwide 2017 is set to take place.